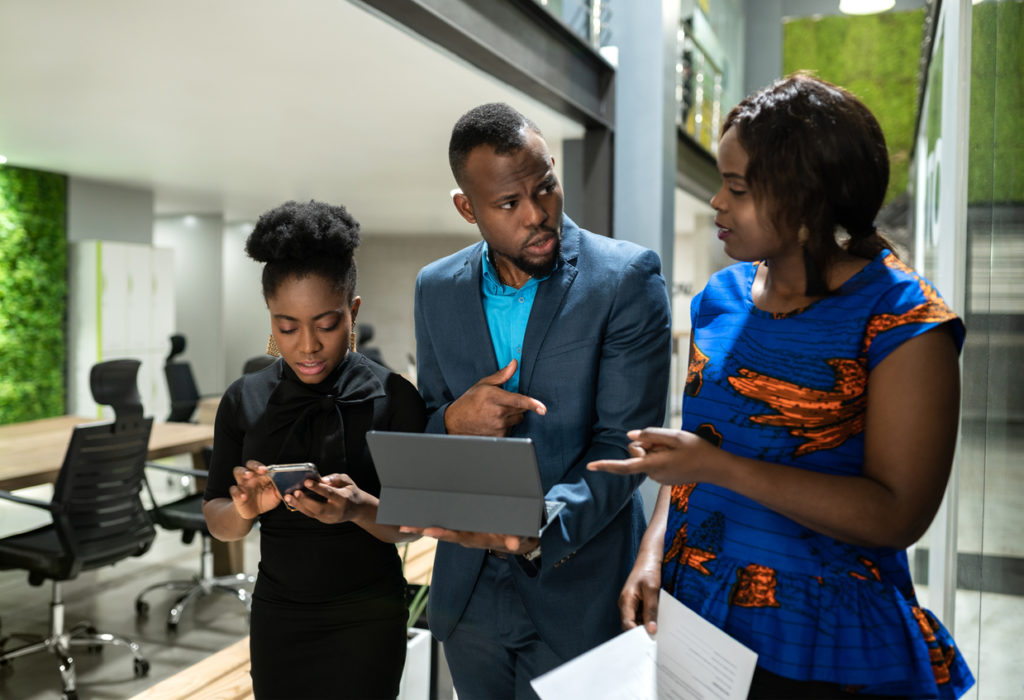 Since ancient times, business has been an essential part of African society. In some parts of the continent, such as East Africa, business has played a central role in the development of civilizations. In West Africa, trade has been an essential part of the economy for centuries.
The continent is home to over 1.2 billion people, and the number is projected to double over the next 30 years. Furthermore, businesses will grow by more than 20% over the next five years.
Today, business in Africa is booming. According to Statista, the GDP growth rate in Africa was estimated at 3.7 per cent and is projected to register constant growth between 2023 and 2027.
Reasons why business is booming in Africa
It's no secret that the continent has seen incredible growth recently, with businesses expanding and jobs becoming more available. There are many reasons for this, but here are some of the most significant:
Population growth
Africa's population is snowballing, causing businesses to invest in the continent. This population growth is resulting in increased demand for goods and services. In addition to the general population growth, there is also a surge in entrepreneurship. This is partly because Africa has many young people looking for opportunities.
Large natural resources base
The continent has a wealth of minerals, oil, and gas. Africa also has a large agricultural sector, a crucial income source for many people. Furthermore, it has a significant source of food and clothing for the world. The natural resource base in Africa is a significant driver of investment and business in the continent.
Cheap Employees
One of the main reasons for Africa's booming economy is that employees are incredibly cheap. This is especially true in countries like Ethiopia, which has a low cost of living. This means that businesses can operate without having to invest a lot of money and still make a lot of money.
Growth in investment
Over the last few years, the amount of investment in Africa has grown exponentially, with a total of $83 billion invested in the region in 2021, especially in business services, technology and media, telecoms, and financial services. This investment has helped support the development of infrastructure, create jobs, and promote innovation. This increase is partly due to the strengthening of the global economy and the increasing demand for commodities and natural resources in places like China and India.
Infrastructure development
Africa also has a lot of infrastructure development going on. This includes roads and bridges, which are necessary for businesses to operate. Excellent and reliable infrastructure encourages businesses to expand, as they can get products to market faster.
Proximity to key markets
Africa is only a few hours away from Europe and Asia, which makes it an attractive destination for investors. And because Africa is a developing continent, its businesses are often able to offer lower prices than businesses in developed countries.
Prominent business names are already in Africa.
Africa's economic potential is enormous, and businesses are starting to notice. Over the past few years, businesses have invested billions of dollars in Africa. This investment has created jobs and improved the economy.
Companies like Total, BP, and Shell are among the major investors in the continent. These companies are looking to exploit the country's natural resources and are also looking to make a profit from the growing demand for goods and services in Africa.
What is even more surprising is that no less than 400 companies are earning revenues of $1 billion or more, and nearly 700 companies have revenues greater than $500 million. Here are five of the biggest companies that have invested in Africa:
1. Google
Google is one of the biggest and most well-known companies on the planet. It has a strong presence in many different parts of the world and has invested heavily in Africa, both commercially and through its charitable arm, Google.org. The company has two major research and development centers in Ghana and Nairobi.
Furthermore, Google announced in 2022 that it would invest $1 billion in Africa over the next five years to support various initiatives. It has also created jobs for Africans through its Google Fiber broadband network and other initiatives.
2. Microsoft
Microsoft is another big name in the tech world, with a long history of investing in new technologies and businesses. In Africa, it has invested in businesses such as Skype and Windows, as well as through its charitable arm, the Microsoft Foundation.
Microsoft is using its African Transformation Office (ATO) to develop youth entrepreneurship ecosystems, create jobs, and promote digital inclusion.
3. Facebook
Facebook is one of the most well-known and widely-used social media platforms in the world. It has a strong presence in Africa, where millions of people use it to connect with friends and family.
Facebook has invested heavily in Africa, both through its efforts and through its partnerships with other companies. This includes Facebook Zero, a program that provides free access to Facebook for low-income people in Africa.
4. Coca-Cola
Coca-Cola is one of the most iconic and well-known brands on the planet. It has a long history of investing in new and innovative products and technologies. This has been true in Africa, where it has invested in businesses such as Fanta and Coke Zero.
Coca-Cola has also created jobs in Africa through its Coca-Cola Africa Foundation and its contributions to social welfare programs.
5. Toyota
Toyota is one of the world's leading automotive companies, known for its large investments in new and innovative technologies. In Africa, this has included investments in businesses such as Toyota Tsusho and Toyota Motor Manufacturing Africa.
Toyota has also created jobs in Africa through its manufacturing operations and its contributions to social welfare programs.
It is clear that there is great interest in Africa from some of the world's biggest and most successful companies. This is a testament to the vast potential of the continent and the potential for growth for all of its citizens.
What the business scene will look like in Africa in the following decades
This rapid growth is also fueled by the growing number of entrepreneurs looking to start businesses in Africa. According to the African Development Bank, 22 per cent of Africa's working-age population is starting businesses, which is the highest entrepreneurship rate in the world. This growth is a testament to the growing number of people looking to start their own businesses.
Recent studies show that by the end of 2100, Africa will be the only continent with population growth, and it will house thirteen of the 20 biggest urban areas on the planet (currently, it has only two).
The African business scene will look very different in a few decades. In just a few short years, the continent will be home to an astounding number of new businesses. In fact, only in South Africa, the number of small and medium businesses increased from 2,343,058 in the third quarter of 2016 to 2,614,063 in the first quarter of 2020, a growth of 11.6 per cent over a period of three and a half years.
There are several key challenges that African businesses face, however. For example, there is a lack of skilled employment, which can be a limiting factor when competing against more developed economies. Additionally, corruption is still a significant issue in many countries, making it difficult to obtain necessary licenses and approvals. However, these challenges are starting to be addressed, and African businesses are starting to emerge as leaders in their respective markets.