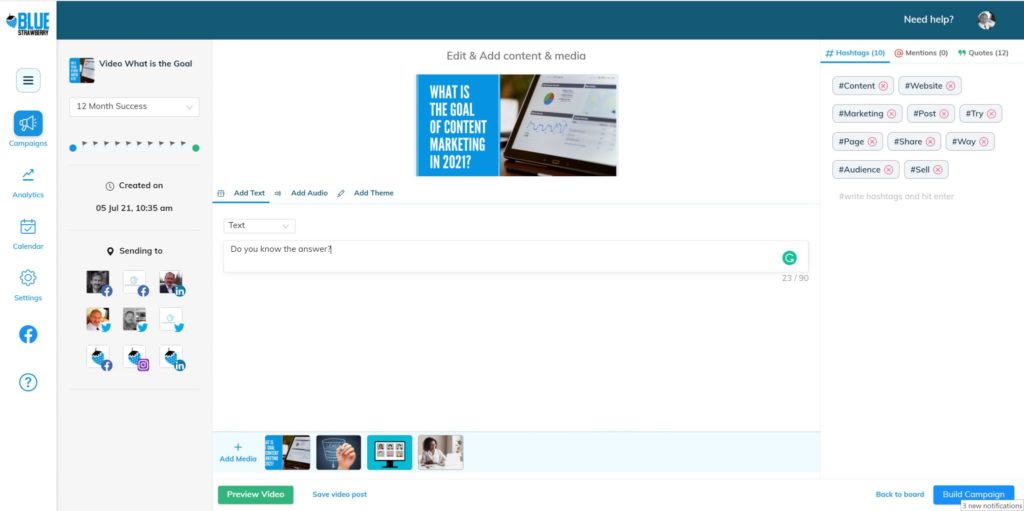 Regardless of the type of business, you are running, a consistent social media presence is vital for the success of your company. However, it is not enough to start an account and post from time to time. You need to be consistent and interact with your audience. You need to listen before being heard and learn how to be present on several platforms at the same time. It sounds difficult because it is. If you haven't discovered Blue Strawberry yet!
Blue Strawberry is an automated social media marketing tool that allows you to control your social media presence, be present constantly, and analyze the performance of all your accounts with just a few clicks! Check out why Blue Strawberry will make a real difference for your business: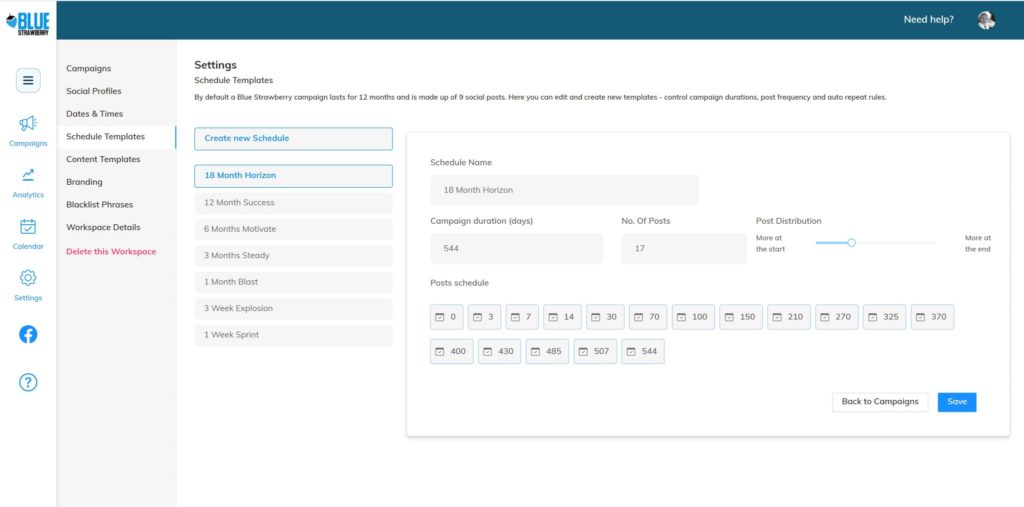 1. Builds up social media posts for up to 18 months
Maintaining an active social media presence that actually amounts to something and helps your business grow is a complicated mission. Many entrepreneurs, bloggers, and vloggers struggle to find the necessary time to post content on the many platforms available to the public. It simply is too hard to keep up, especially if you're a small business with a limited budget. However, if you work with Blue Strawberry, you can be active on various social media platforms as often as you like without investing a fortune. Based on a single post or blog article, Blue Strawberry can build up to 18 months of social media posts prefilled with quotes from your texts. The posts can be published on platforms like Facebook, Twitter, Instagram, and LinkedIn.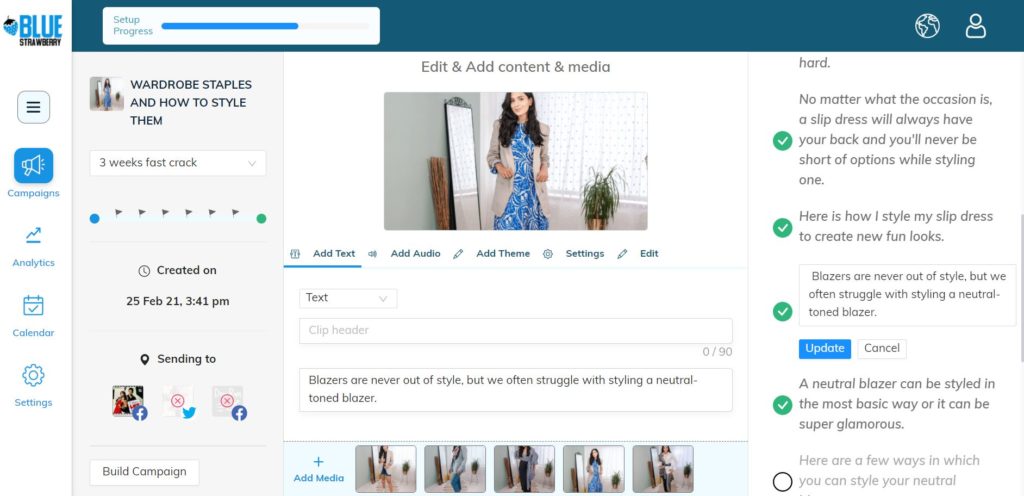 2. Brings in more traffic to your content
Blue Strawberry is a creative artificial intelligence and machine learning software that can generate hashtags from your keywords. Moreover, it can schedule posts according to your needs to create a better audience engagement. An exceptional content promoter, Blue Strawberry helps you reach a wider target audience and brings more traffic to your blog posts and website pages. Furthermore, the app can identify when your followers are most engaged and schedule posting according to their engagement rates. Blue Strawberry allows you to monitor the performance of your social media posts and automatically posts when the engagement is at its peak.
3. Creates social media campaigns on the go
An excellent time-saver, Blue Strawberry allows small businesses, entrepreneurs, bloggers, and vloggers to create social media campaigns on the go. The software is cloud-based and available as both an Android and iOS app. You can create a social media campaign in under 5 minutes and get access to analytics regarding its performance. Based on the data provided by the app, users can measure the results of their efforts. Whether we are talking about the number of likes, comments, or retweets, Blue Strawberry's analytics allow you to see where your campaign shines and where you should focus your effort. The app's performance tool enables businesses and entrepreneurs to test various formats, visuals, copy, and time intervals, and identify the ones that perform the best. All on the go, on any mobile device!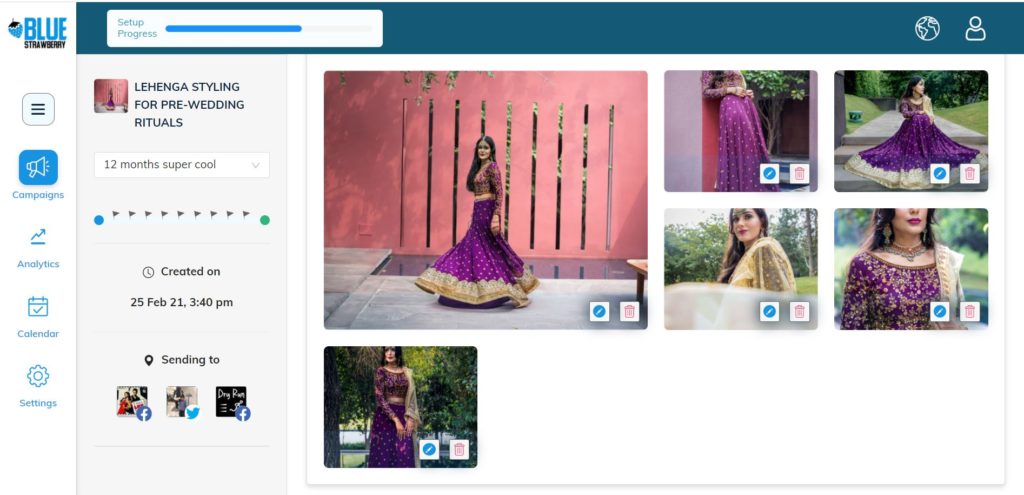 4. Extracts images and renders videos from posts
One of Blue Strawberry's most impressive features is its ability to extract images from your piece of content, be it a blog post or website page, and publish it on various social media platforms, as a post of its own. While it will look absolutely natural and will be accompanied by a caption, the post will be 100% automated requiring absolutely no input from the account holder. Moreover, the content will have tags generated from your keywords to assure a higher impact. Blue Strawberry can also render videos based exclusively on your written content without any physical intervention required on your part. Additionally, it can suggest new images and videos to bring in more traffic and create more engaging posts.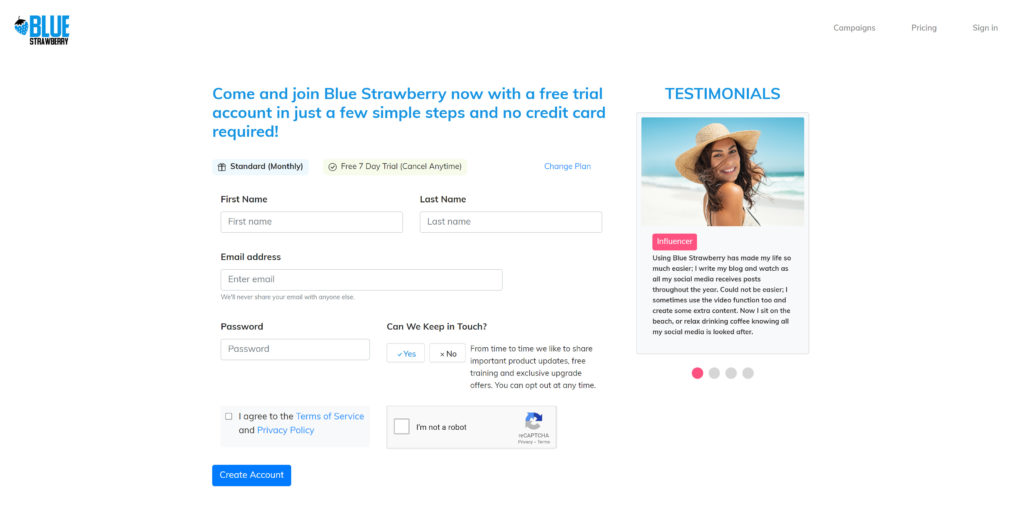 5. Saves time and money
When you are a start-up and you work with a limited budget, the last thing you want to do is spend recklessly. Working with a digital marketing agency to improve your social media presence may pay out eventually but it is an investment many entrepreneurs can't afford. A social media marketing tool is their best bet to stand out in the crowd. The key to success on social media platforms is consistency. This requires precious time that could otherwise be directed towards other important aspects of a company. Blue Strawberry helps you save a lot of money and time while allowing you to post consistently and, more importantly, wisely. Your business needs to be exceptional and relevant to be taken seriously in the universe of social media. Your business needs…a Blue Strawberry!

You can visit the software page here: Blue Strawberry