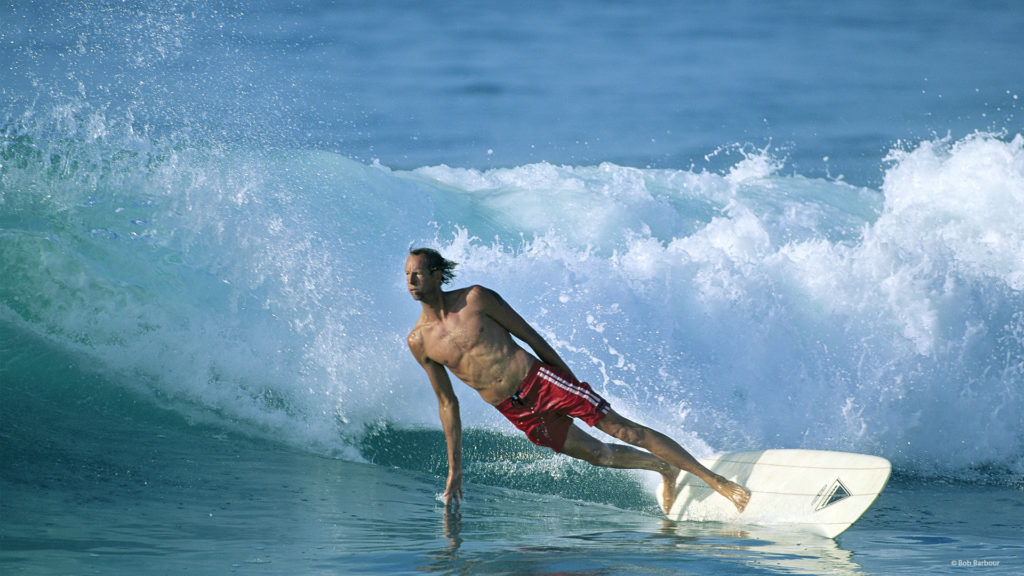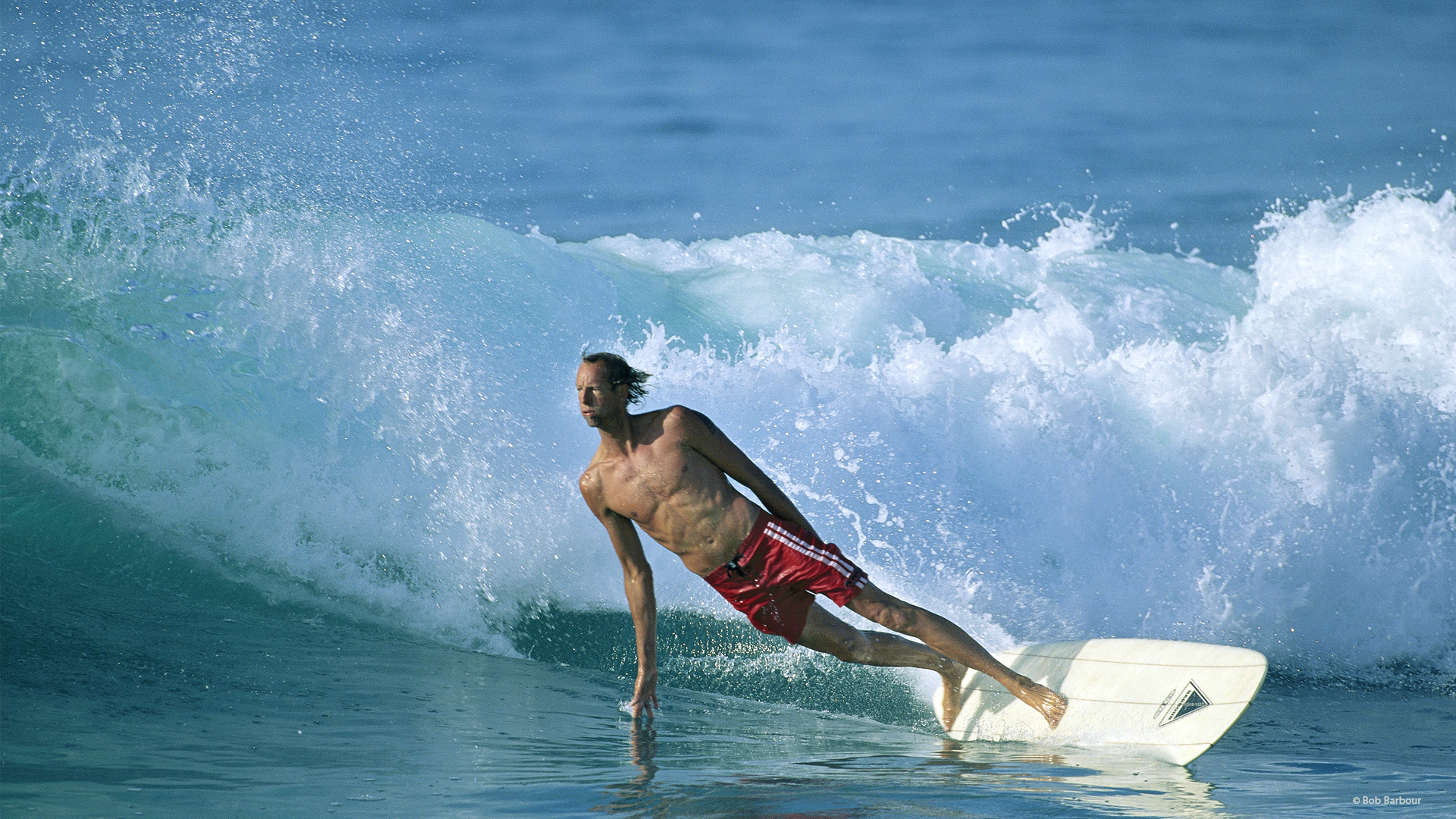 Terry Simms is a sixties era surfer who has searched the world over for the perfect wave. He was raised in Pacific Beach, California at a time when earning a place in the line-up was like walking the Gauntlet. Terry is a non-conforming soul surfer and good-will ambassador. Terry rides the leading edge of experimental surfing technology as he pushes the limits of modern longboarding. His friends say he would rather surf than eat and when asked stated, "I'd rather have waves for breakfast!"
What is your first memory of surfing?
"I remember my older brother Sandy. He was a real rebel guy and part of the heavy surf culture of the time… a total nonconformist surfer. He wore a beard and long hair and it blows me away when I think back and remember my mom trusting Sandy with taking care of me and Pat. I was three and Pat was a year older. Anyway, one morning he piles us into his little black VW bug and drives us all the way down to Carlsbad to a beach called Tamarack. I remember playing with my brother Pat in the tall bamboo at the edge of the beach. Later we took turns standing on Sandy's old Velsy balsa-wood surfboard in the sand, pretending that we were surfing. It's a great memory."
Where and when did you catch your first wave?
"It was mid 1963 and I remember waking up in the back seat of the family car as we sped off into the night. My mom had left my dad. You need this background to know how I ended up in Mission Beach, San Diego. We settled into a place just across from the beach. In 1963 the surfing influence was real heavy and we were poor Groms. It was about 1964 when my brother Pat and I nabbed our first surfing vehicle. You won't believe this… but it was an ironing board. One of the old wooden kind. We tore off the cover and the legs and headed off for the shore break. I caught my first wave at Mission Beach on an ironing board… no lie!"
When did you get your first real surfboard?
"Well, in 1965 just before Sandy and my sister Donita ran off to Haight-Ashbury, San Francisco, my dad cut his classic Velsy in half and made two knee boards out of it for Pat and me. That doesn't really count though. I got my first real surfboard in 1968. It was an "Inner Hawaiian," and my mom bought it at George's Surf Shop in Pacific Beach, across from Select Surf Shop, which was owned by the late Phil Castagnola. It was 6'8″ with a clear bottom and a heavy acid splash on the deck and one of those big smoke colored, single screw flex fins of the time. Later on, in the early 80's I joined the Select Surf Team. Then from 1983 to 1985, I lived in Hawaii, Kauai, where I surfed with my friend Jocko, Billy Hamilton, and others. I was looking for some direction in my life and one day Billy Hamilton suggested that I enter a contest being held at Sunset Beach. At that moment I realized that I had potential. I decided that I would model myself after my many surfing heroes. My goal became to surf well and to strive to someday carry myself as proudly as they did."
What was it like growing up in Pacific Beach in the 60's?
"Well basically, Pacific Beach had a very violent filtering system, where if you wanted to surf the half dozen or so local breaks you had to go through a series of initiations. You had to be beat up, ripped off, have your bike thrown into the ocean and basically rocked by all the guys who came before you because they had to endure the same thing from the generation before them. If you couldn't deal with the initiation then you didn't belong… and you didn't surf."
What do you like best about longboarding?
"I've always looked at surfing as a kind of golf game. You wouldn't play Nine holes with a single club like a wedge, would you? I learned from Skip Frye, Marty Vaughn and Craig Postan to have the proper tool for the conditions, whether it be a longboard, shortboard or a gun. When I hooked up with Rich Harbour I found someone who could shape the ideal surfboard for me, the Simms Model. Rich is passionate about his work. He's a sculptor whose life revolves around shaping and whose goal is to make a surfboard that encompasses the whole bag of clubs."
What is your all-time favorite surf spot?
"South Bird Rock. It's a small town between La Jolla and Pacific Beach. The break is between Wind n' Sea and Crystal Pier. It was one of the places that I had to get beat up for in order to surf. It's a small reef break and it's perfection."
What is your most memorable international surfing experience?
"The Gold Coast of Australia is my all-time favorite. The Australians don't live to work, they work to live. The shoreline is like a jungle with beautiful birds and animals all around. They have the most perfect sand bar points in the world, the clearest water and cleanest beaches. My least favorite would be Puerto Escondido. It's a big wave beach break with a sand bottom. I did a photo shoot there with Longboard Magazine. The beach is dirty, the water is dangerous and it's a long from any help. Although it's extremely hard to ride if you dial it in you'll get the best tube ride of you life!"
What is your most memorable Stateside spot?
"My favorite spots are not necessarily the most famous spots. I enjoy the spots that have the nicest people and the most beautiful surroundings. When you think about it, the average ride on a wave is only ten to twenty seconds long but memories of experiences with good friends in pleasant surroundings last a lifetime. It's widely understood, however, that the hottest spot around is Malibu and in September of 1976 I surfed it during the best south swells ever. It was insane, in fact Hal Jepsen was there filming. I think he called the film "Cosmic Children." If you check it out look for a panning shot with three kids hanging BA's at the camera. That was me, my brother Pat and my friend Ronnie Williams. Malibu that summer was all-time, but even so, I recently surfed a place in New York area called Montauk. The surf was great with all the Atlantic hurricanes and I met so many nice people. It was the most fun I've ever had. The older more experienced surfers take care of the younger ones. The original surf spirit and energy are still alive in Montauk."
What is your favorite place for breakfast?
"I don't eat breakfast. I get frustrated with my surf-buds who always want to waste good wave riding time sitting in a restaurant. I always say, lets eat later… have some waves for breakfast!"
The photograph of Terry Simms was taken by fantastic photographer Bob Barbour. Born in Santa Monica California, Bob Barbour's early years spent on the beach and in the surf became the foundation for his lifelong passion for the ocean, waves and the quintessential surfing lifestyle. Bob started surfing at Malibu when he was 13 and soon became an avid surfer. Although he enjoyed photography, it wasn't until his college days at San Diego State that he realized his true calling.
Bob's photography teacher, Gene Kennedy was that one in a million teacher who inspired and mentored Bob to make his passion for photography his career.
You can visit Bob's website here.